About the programme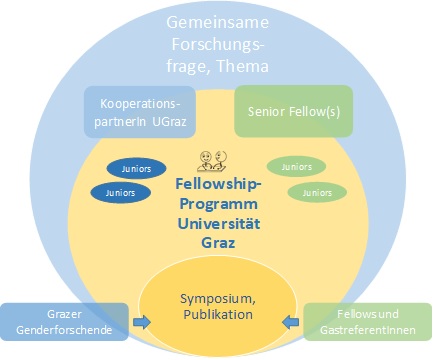 Objectives:
Strengthening research - networking - promoting junior researchers

Through the Fellowship Programme, the University of Graz strengthens its own gender research with regard to local and international networking. The Fellowship serves to stimulate thematic connections within the university and to intensify and expand existing international research cooperations.
The Fellowship Programme creates an optimal research environment for projects by allowing international senior, junior and university researchers to work together on a common topic for several months and to hold a symposium with international participation.

Selection and quality assurance:
Expert Jury & Scientific Board
An international jury of experts is appointed to select the research projects that receive financial support through the Fellowship Programme.
A local Scientific Board, comprising representatives from the Gender Cluster within HaC (Heterogeneity and Cohesion), DP Gender, the Gender Studies Scientific Advisory Board, the Rectorate and the Coordination Office for Gender Studies and Equal Opportunities, is responsible for the programme.